Thursday, May 13, 2010
It seems like I can never be satisfied. In some aspects of life, I want things to speed up. But as I look at these pictures, my baby girl is getting too big too fast. Although, we are loving every minute of this "big girl" stage. Wait...I need to back up.
Braylin's 1 year stats (never got these posted)
Height: 32 1/2 " (99th percentile)
Weight: 20 lbs 6 oz (33rd percentile)
Head: 18 1/2 " (91st percentile)
Yes, I feed my child. I feel like she eats all the time, but the doctor still seems concerned that she isn't gaining enough. These first pictures are proof.
For Dad's birthday, we went to Portland for some shopping and eating. Braylin is loving Macaroni Grill (above) and some Pretzel (below)
We had a beautiful day several weeks (okay, over a month) ago that Joel and I decided to drop everything we were doing and take Braylin to the park. We need to remember to do this more often since time does fly and she is growing up so quickly. (I get so stuck in the stuff I just "have" to do, I sometimes forget to just enjoy the day and time with Braylin)
She L O V E S to swing. It took us a while to get her to play on anything else.
Okay, now to the "Big Girl Stage"
This week has been a big week for us. I found a snake in our storage shed (Yes, I flipped out!) but on a much better note, Braylin got to spend some time with her Daddy yesterday and she took
3 steps
from the chair to his arms. We are about to have a walker on our hands. (Which I had to admit will be nice so I don't have to bend all the way to the ground to pick her up!) The picture below will help you all understand why.
Camden is a growing boy too (I can't believe I am already in my 3rd trimester...YIKES!) Just when I think life is crazy but I'm getting the hang of it, he'll be here to keep me on my toes...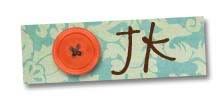 Posted by

JK
at 10:43 AM
3 comments: